Have you ever heard of a Walk Score? It's a measure of how walkable a city, neighborhood, or street address is. But what does that mean, and why does it matter?
what is walkability?
Walkability is typically defined as living within walking distance of the amenities that make up your daily errands and activities. This includes places like schools, parks, restaurants, and retail establishments like shops and grocery stores.
how to measure walkability?
One way to measure walkability is the Walk Score, a numerical score on a scale of 0 to 100.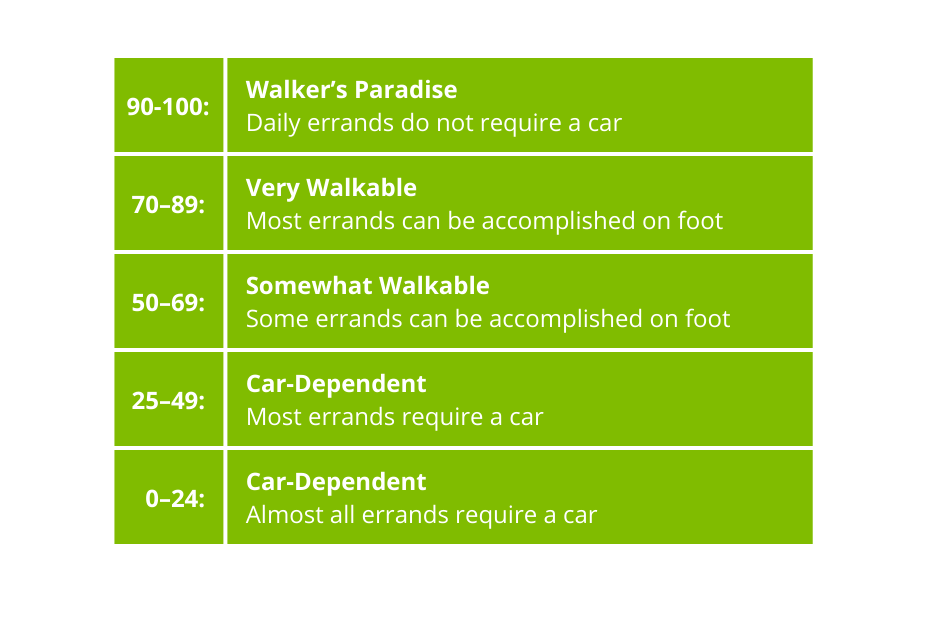 The higher the score, the more walkable the origin point is. So a short 5-minute walk to a grocery store would score highly. A 25-minute walk scores much lower.
And if it's more than a 30-minute walk, it scores zero points. The Walk Score defines walkability as 30 minutes or less. Anything longer is not considered conveniently walkable.
why is walkability important?
The creators of the Walk Score believe that walkable neighborhoods with access to public transit, better commutes, and proximity to the people and places you love are the key to a happier, healthier and more sustainable lifestyle.
good for environment
If you can walk, bike, or take public transportation to most places, then you don't need a car, and you're reducing your carbon emissions. Burning fossil fuels is a key driver of climate change, so reducing your carbon footprint is a good thing. Less driving = less air pollution and better air quality.
good for health
Walking is a fantastic form of exercise! The more you walk, the healthier you'll be. One study found on average, people living in walkable neighborhoods weigh 6-10 pounds less than people who don't.
good for community
Quality of life is better when you have the freedom to do things without needing a car (fewer traffic jams!). Walkability encourages a sense of community and gives you more opportunities to get out and interact with neighbors face-to-face.
It's also linked to higher levels of arts organizations, creativity, and civic engagement and improved home values. Others conclude that cities with good public transit and access to amenities promote happiness.
Now walkability doesn't guarantee happier, healthier communities, but it's a proxy for many connected factors, all of which help build a robust, diverse community!
Sources: WalkScore.com, Walk Score methodology, research on public health & real estate
follow us