Have you heard about the girl who made a dress out of plastic bags? Quirky, to be sure, but it's an example of repurposing — taking an old item and reusing it for a new or different purpose. That old saying, One man's trash is another man's treasure, is the same idea.
the mission
The Oregon organization Washed Ashore takes that quite literally. It collects plastic waste that washes up on the beach (also known as marine debris). Then, the non-profit uses it to build colorful sculptures of sea animals whose health is threatened by that waste. Animals often eat plastic waste or get tangled up in plastic netting dumped in the ocean. It's an increasingly common problem.
collective effort
Washed Ashore has reclaimed an impressive 26 tons of plastic off the beach, creating new friends like Daisy the Polar Bear and Cosmo the Puffin. Flash the Marlin is made from sunglasses, toothbrushes, fishing poles and a toilet seat.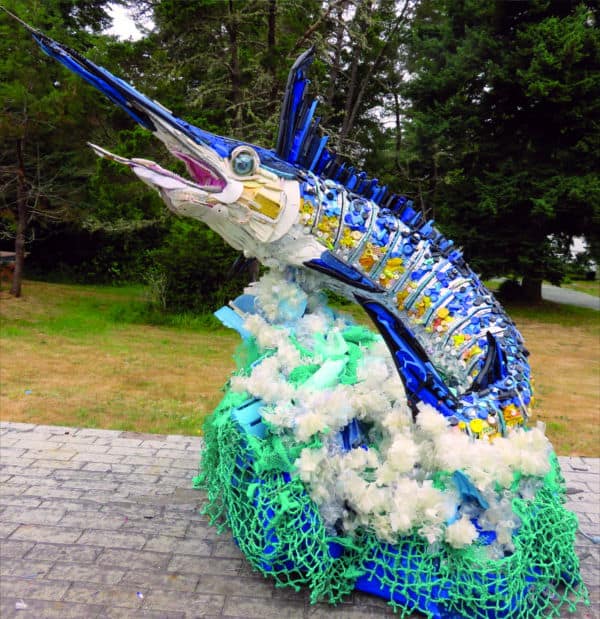 There's a full-time staff but 10,000 volunteers have pitched in to help too! The sculptures have been on exhibit at many places like the Oregon Zoo, Smithsonian National Zoo, Florida Aquarium and Disney's Animal Kingdom.
art with a purpose
We love this idea because it does four positive things at once. First, it cleans up garbage on the beach. Plastic pollution has become such a big problem that we're seeing plastic end up in seafood and tap water.
Second, they're creating truly interesting and lively works of art. (And because the materials are trash, they're free!)
Third, Washed Ashore uses the sculptures to raise people's awareness of plastic pollution. The goal is to effect behavior change and to get people to understand how much trash they create. The organization's motto is "Art to Save the Sea."
Fourth, the artwork is a great example of zero waste — the choice to reduce, reuse, and recycle, rather than contributing to landfill waste. Creating art with a purpose from trash is truly a great mission!
Sources: WashedAshore.org; New York Times. Images courtesy of Washed Ashore.
follow us